The Union, Cory Fisher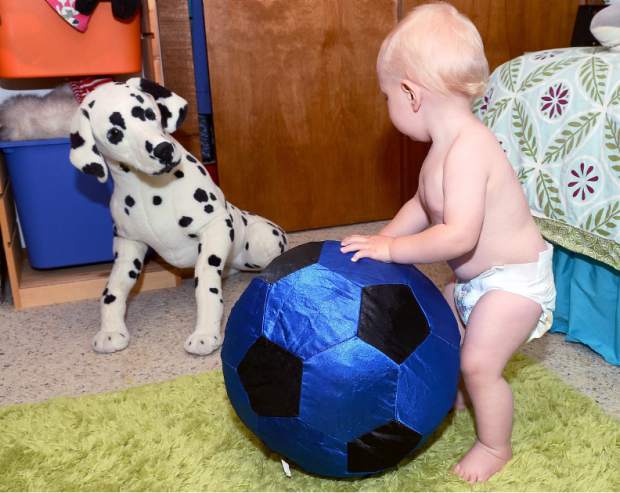 According to new research from the Yale School of Medicine, there is one important question pediatricians should be asking all parents of young children.
"Do you have enough diapers to change your children as often as you would like?"
Researchers say the answer to this question could be a key indicator of a family's overall well-being.
A study on "Diaper Need and Its Impact on Child Health," published in July's edition of the journal of the American Academy of Pediatrics, found that "an insufficient supply of diapers is not only a risk factor for poor infant and child health but also for maternal mental health."
The results came as no surprise to Joanne Samuel Goldblum, executive director of the National Diaper Bank Network and co-author of the Yale study of low-income mothers. Nearly 30 percent of the women surveyed reported ongoing or occasional diaper shortages at home.
""We found that diaper need was highly correlated with maternal stress — more so than even food need," she said. "A shortage of diapers indicates a more significant level of poverty, and mothers were at a higher risk of stress-related issues."
A shortage of diapers can create a negative chain reaction in an already-struggling household, the study showed.
For example, a majority of childcare providers require families to provide disposable diapers. If a parent is unable to afford the required amount of diapers, he or she could miss crucial job interviews, job training or other programs geared for improving life circumstances.
According to an opinion piece written by study authors Goldblum and Dr. Megan Smith, a professor at Yale's Child Study Center and School for Public Health, children of families with an insufficient diaper supply often "miss opportunities for early childhood education, and thus, the achievement gap widens. Our research found that mothers who cannot provide enough diapers are more likely to report difficulty with stress management, depression and coping with trauma. These mental health needs were even more pronounced in mothers who had trouble obtaining diapers than in mothers who reported food insecurity. Maternal stress and depression are strongly associated with developmental and health problems in children and can have lifelong effects."
Because the Supplemental Nutrition Assistance Program (food stamps) and the Women Infants and Children Program do not categorize diapers as a basic need, they do not cover the cost.
Nearly 8 percent of women in the study reported "stretching" the diapers they had when in short supply. In addition to the added stress of a fussy baby, infrequent diaper changes can lead to an increase in diaper dermatitis and urinary tract infections and a rise in emergency department visits.
"I get a lot of people asking me why these mothers don't use cloth diapers," said Cathy Fagan, founder of the Nevada County Diaper Project. "The answer is that it's just not realistic. Most low-income mothers don't have washing machines, and most laundromats won't allow washing of diapers for hygienic reasons. Also, for working moms, most childcare facilities won't accept cloth diapers. These parents are not lazy — there are legitimate reasons for using disposables."
Both Fagan and Goldblum are part of a nationwide push to establish regional diaper banks for families in need.
In 2009, The Nevada County Diaper Project was founded by Fagan for the purpose of providing diapers to young families who are receiving assistance through the Interfaith Food Ministry. The Nevada County project alone distributes a minimum of 4,000 diapers per month through distribution centers in Penn Valley, Grass Valley, Nevada City and Truckee.
"We're almost always on the edge when it comes to supply," said Fagan, whose program receives no government funding. "We always need diapers from size 2 and up. We generally don't need newborn sizes — most mothers get their first batch of diapers from friends and family from baby showers."
According to the Yale study, a sufficient supply of diapers costs an average of $18 per week, or $936 annually per child. Therefore, the cost of diapers is 6 percent of the gross pay for a single mother working full time at the federal minimum wage of $7.25 per hour or $15,080 per year. And that's just for one child. There are an estimated 6 million American children under the age of 3 living in poverty.
"In America today, millions of babies and toddlers are less comfortable, less safe and less likely to prosper in the long term because they are sitting in wet, soiled diapers," wrote Goldblum and Smith. "They need a change."
As mentioned above, many parents are prevented from seeking work or an education due to the requirement of diapers at childcare facilities. That, in turn, creates more household tension, which has the potential to lead to abuse or neglect, the study concluded. In addition to the discomfort of a soggy diaper, children may lose out when it comes to learning normal cognitive and language skills.
"The fact that your community has a diaper bank is really wonderful," said Goldblum, who lives in Connecticut. "The small things impact the big things. Having enough diapers can mean the difference between someone getting to work or not getting to work or trying to make a change."
Fagan couldn't agree more.
"This research backs up what we have always observed," she said. "Parents want the best for their children. When they cannot meet a baby's basic needs, it is devastating."
To contact Staff Writer Cory Fisher, email her at Cory@theunion.com or call 530-477-4203.