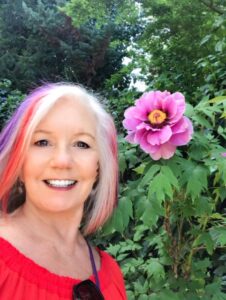 The Nevada County Diaper Project has announced the appointment of a new director, Karen Keegan, who has assumed the responsibilities of previous director, Denise Franklin Hayes.  Karen lives in Lake Wildwood with her husband of 38 years, Edward Keegan, who will also play an integral part in the success of the Nevada County Diaper Project. After all, someone has to deliver the diapers to the 7 distribution centers! 
Karen is a retired Adult Health Educator, working for Kaiser Permanente teaching healthy living and smoking cessation classes.  She also worked for Weight Watcher's for 8 years as a group leader. 
She is a former single mother, who remembers the challenges of providing for the needs of her children on a single income.  It was those memories that encouraged her to reach out to Denise Franklin Haynes when a new director was needed. "I have lived the struggle that many young mothers experience.  Nothing hurts worse that not being able to provide the necessities your own children need in their formative years", shares Karen. 
Karen has been a volunteer at the Nevada County Food Bank, has volunteered the last 4 years in her grandson's classroom, and was looking for an important way to positively impact the lives of others.   
The Nevada County Diaper Project was founded by Cathy Fagan in 2009, when she realized that many young families in our community didn't have funds to purchase diapers.  When visiting local food banks for groceries, the young mothers would ask for diapers.  One in three mothers in America struggle to provide diapers for their babies.  These mothers have had to cut back on basics such as food, utilities like gas and electricity, or even child care to provide enough diapers for their children. 
The NC Diaper Project started with a small distribution of 50 diapers per week.  We currently distribute between 4,500 to 6,000 diapers per month, all paid for with money and contributions made by private donors and organizations.  The Diaper Project is filling a great need for our local families. 
"This is a huge and very important job.  I am blessed with a community of friends who donate their time and help to get this job done.  I could not do it alone!  Many hands make light work," says Karen. 
Volunteers interested in helping with or donating to the Nevada County Diaper Project can contact Karen Keegan through the NC Diaper Project email address-