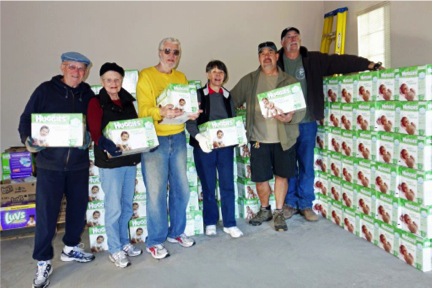 When the Nevada County Diaper Project received news that they were the recipients of a large donation of diapers from the National Diaper Bank Network that manages Huggies' Every Little Bottom Program, it all seemed like good news. It was only after learning that the diapers were in the Los Angeles area, and had to be transported to Penn Valley within a week over the holidays that turned it into a real challenge.
Undaunted by what seemed insurmountable obstacles, Cathy Fagan, Director of the Project, got on the internet to find out what options were available to transport the three pallets of diapers at a minimal cost over the holiday season. Freight Quote searched its database and found a trucking company that would do the job at a reasonable cost and could work with the limited pickup schedule. However, they needed a commercial receiving dock in Penn Valley to receive the three pallets, after which, the diapers had to be transferred to the storage unit in Lake Wildwood.
What began as a one-person challenge soon became a community project. Scott Gutierrez of True Value Hardware stepped up to offer their loading dock and forklift to receive the shipment. Then Mike Mastrodonato of Penn Valley Storage offered to transfer the pallets to their final destination.
On delivery day, both businesses worked together to get the pallets of diapers to the storage unit in Lake Wildwood. After Bob and Diane Hall, Bill Fagan, Mike Zimmerman, and Mike Mastrodonato unloaded and stacked the boxes, the volunteers who package them moved in. Paula Bertness, Joan Nio, Kris Gardner, Tammy Giles, Gerry Cosby and Ginny Herron picked up their cases, got the diapers wrapped and ready for delivery to the distributors. It was pure teamwork.
The Nevada County Diaper Project wishes to thank all of these volunteers for caring enough to donate their time and talent to make this transfer a success.   Without this kind of cooperation, the project wouldn't exist.